I'm currently working on three different projects: a pink bamboo/cotton jersey bra and 2 different top/skirt combinations, Butterick B4127 and New Look 6470. I'm actually cutting out and sewing the bra, but I'm working on getting all of the materials together and altering the other two patterns while I'm waiting for the material to arrive for them :-). I'm hoping to get at least one of these completed this weekend so that I can finally post a review on patternreview.com.
If I make good progress this weekend, then I will share some tips on bra-making from what I've learned over the past three years. Stay tuned!
Butterick B4127:
New Look 6470: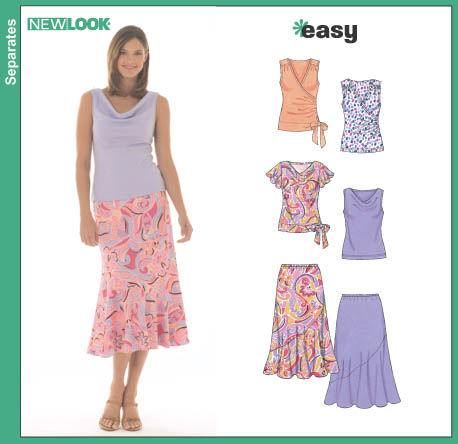 I really need some summer tops quickly, so I decided to stop making blouses (which I can do in my sleep, but I don't have time to make all of them!) and try making something that's faster. I will most likely make the drape-neck top from New Look and matching bras out of the many colors of bamboo/cotton jersey I have now yum-yum! Soft, silky, flowy, breathable, wick-away - I love this fabric!!! Bye for now!